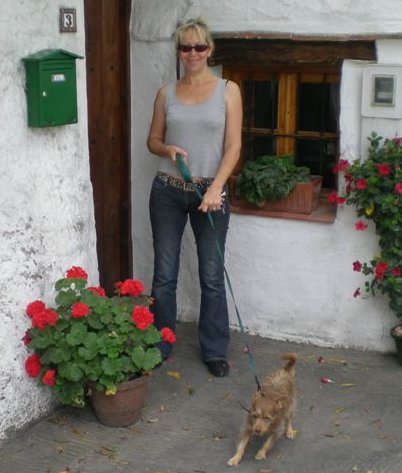 Nina and her
rescue dog, Chico
WELCOME!
Action for Animals was started as a UK registered charity in 1997 by Nina Cordoray Downes. Although we are still small, Action for Animals is now also registered in Spain where we have our first charity shop, in the Andalusian village of Competa.
Through our UK branch we continue to support and fund animal rescue projects around the world, while our Spanish organisation is involved in community animal projects, such as financial assistance for neutering programmes.
We are committed to preventing animal cruelty and promoting kindness to animals worldwide, but we can only do that with your assistance. Please help us by making a donation via the web site.
Alternatively, if you live in the Competa area, our shop is open from Monday to Friday from 10am till 2pm and Saturday from 10am till 1.30pm. We always need items to sell, so please help us make a difference and bring us your unwanted goods.
NEWS! NEWS! NEWS! NEWS!
SCRUFFS 2013...THANK YOU!
Thanks to your help, SCRUFFS 2013 was once again a massive success. We managed to raise a whopping €2261.60. To find out who won what, click here.
For news about Action for Animals, please
click the Facebook Like button above!