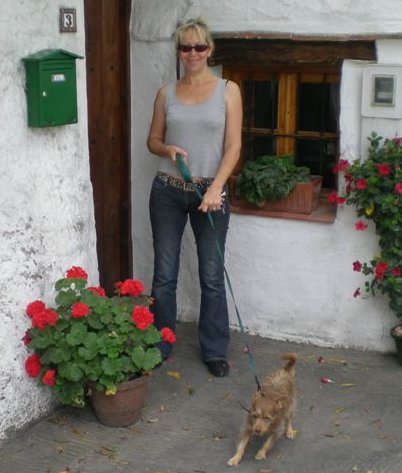 Nina and her
rescue dog, Chico
WELCOME!
Action for Animals was started as a UK registered charity in 1997 by Nina Cordoray Downes. Although we are still small, Action for Animals is now also registered in Spain where we have our first charity shop, in the Andalusian village of Competa.
Through our UK branch we continue to support and fund animal rescue projects around the world, while our Spanish organisation is involved in community animal projects, such as financial assistance for neutering programmes.
We are committed to preventing animal cruelty and promoting kindness to animals worldwide, but we can only do that with your assistance. Please help us by making a donation via the web site.
Alternatively, if you live in the Competa area, our shop is open from Monday to Friday from 10am till 2pm and Saturday from 10am till 1.30pm. We always need items to sell, so please help us make a difference and bring us your unwanted goods.
NEWS! NEWS! NEWS! NEWS!
SCRUFFS 2014!
This year's Scruffs was our best ever, and the most successful, raising an incredible €2816.50. Thanks to everyone who came and especially those who helped to make it the success that it was. For photos of the day and a list of competition winners, click here.
SCRUFFS UNCLAIMED RAFFLE PRIZES!
We have a lot of unclaimed raffle prizes. Please come to the Action for Animals charity shop in Competa to claim them. Thanks to Kevin Deavin for his superhuman ticket-selling skills. The unclaimed prizes are:
203 Green
Radio/CD player
328 White
Steve Brogan - Two course meal for 2 at El Pilon
339 White
Debbie and Martin - Cava from Komo Komo
365 White
Olga - Painting of Cómpeta by Ann Graham
428 White
Maz and Jim - Sunday lunch for 2 at The Pavo Real
529 White
Will and Jan - Biscuits from Sugar and Spice
540 White
Paul - Exerciser
572 White
John - Massage from Sama Salud
582 White
Dave - Half hour massage from Learn Reiki in Spain
618 White
Lesley - Guided walk in Cómpeta
706 White
Sam and Conchi - Bottle of vodka
722 White, 723 White and 730 White
Sandra Simpson - Photo from Sally Murrell, a bottle of vodka and a gift pack from Siggy
789 White
Liz and Frank - Bottle of cava
799 White
Jenny - Dinner games box
812 White
Kim W - Manicure from Tin Tin
For news about Action for Animals, please
click the Facebook Like button above!